Majoitukset
Pension Fischinger
- Feldkirchen in Kärnten
Pension Fischinger
9560 Feldkirchen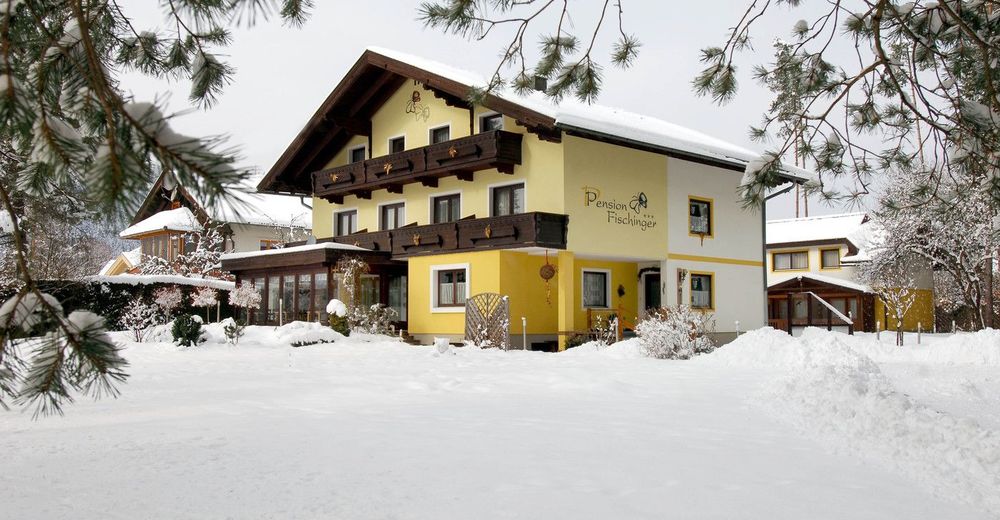 täysihoito

30 Sängyt, 14 Huone

Wolfgang Fischinger

Aichweg 17, 9560 Feldkirchen
An unforgettable Winter holiday at the heart of Carinthia
Surrounded by snow-topped mountains and ice-covered lakes. If you enjoy skiing or snowboarding, you are sure to find the optimal pistes here. Various top ski resorts are just half an hour away, including Gerlitze, Turracher Höhe and Bad Kleinkirchheim.
The family ski resort of Simonhöhe is even closer – just a few kilometres away. Similarly, the Hochrindl is not far away: here you can enjoy various kinds of Winter sports, a dreamy walk or a horse-drawn coach ride through the Winter landscape.
The lakes in the surrounding area (such as the Lake Maltschach and Lake Flatschach) are ideal for ice skating. The ice rink in Steindorf is also just a few minutes' drive away.
The sport of 'Austrian curling' is very popular in Carinthia and is offered at various ice rinks in the region. Several cross-country trails are also available for cross-country skiers to explore.
The indoor pool is not available in Winter, but the sauna and steam bath are the ideal places to relax and unwind.
A very special offer is available to mark the New Year too: enjoy a 5-course gala menu and midnight soup buffet for the price of 34 € per person. We will be welcoming in the New Year together with a fireworks display. See also our Winter packages such as the New Year's Eve package.
Huone/Huoneistot
Videos
Taxe + Euro 1,70/Person and day
Allgemeine Verfügbarkeit
Pension Fischinger
pyynnöstä
saatavissa oleva
Tarjoukset Talvi
Pension Fischinger
lyhyt loma / Syksyhinnat
Gültig pois 12.09.2021 asti 03.10.2021
The golden autumn 3 nights Breakfast buffet with flour mill Sauna, indoor pool Events September 13, 2020 September 30, 2020 Half-board can be booked on site /pers./day € 17, - Room rate...
Tarjoukset Kesä
Pension Fischinger
Hinnat
Nebensaisonen
07.01.2021 - 30.06.2021
01.09.2021 - 06.09.2021
13.09.2021 - 31.10.2021
Einzelzimmer
pro Person / pro Nacht
| Frühstück
Doppelzimmer
pro Person / pro Nacht
| Frühstück
Doppelzimmer
pro Person / pro Nacht
| Frühstück
Mehrbettzimmer
pro Nacht
| Frühstück
Familienzimmer
pro Person / pro Nacht
| Frühstück
Sommer Hauptsaison
01.07.2021 - 31.08.2021
07.09.2021 - 12.09.2021
Einzelzimmer
pro Person / pro Nacht
| Frühstück
Doppelzimmer
pro Person / pro Nacht
| Frühstück
Doppelzimmer
pro Person / pro Nacht
| Frühstück
Mehrbettzimmer
pro Nacht
| Frühstück
Familienzimmer
pro Person / pro Nacht
| Frühstück
Einzelzimmer
pro Person / pro Nacht
| Frühstück
Doppelzimmer
pro Person / pro Nacht
| Frühstück
Doppelzimmer
pro Person / pro Nacht
| Frühstück
Mehrbettzimmer
pro Nacht
| Frühstück
Familienzimmer
pro Person / pro Nacht
| Frühstück
Maksutavat
cash, maestro-card ( EC-Card), Credit-cards (visa, mastercard)
Huomautukset:
Taxe + Euro 2,10 /Person and day
täysihoito

30 Sängyt, 14 Huone

Wolfgang Fischinger

Aichweg 17, 9560 Feldkirchen
Huone/Huoneistot
Maksutavat

cash, maestro-card ( EC-Card), Credit-cards (visa, mastercard)