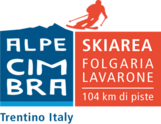 Hiihto
Alpe Cimbra / Folgaria - Lavarone
1.400 - 1.610m
First in Trentino Second in Europe unique for the Its Unlimited Open Space
The cross-country skiing trails in the mountains of Folgaria, Lavarone and Lusérn are considered by experts to be the best in Trentino due to the quality of the trails, the facilities and the beauty of the Alpine setting. The ALPE CIMBRA boasts three cross-country centers, for a total of 85 km perfectly equipped trails.
Cross-Country Centre Facilities:
Changing rooms and showers
Restaurant, bar and self-service
Ski and equipment hire
Ski waxing service
Ski waxing area and depot
Nordic skiing school with qualified staff with long professional experience: individual and group lessons, from basics to competition techniques
FREE ENTRANCE FOR CHILDREN UNDER 10
Programmed snowmaking
Passo Coe – Folgaria Cross-country Ski Centre – altitude 1600 m
9 km from Folgaria. 33,5 km of pistes – 10 and 15 km competition pistes; 5 km medium difficulty, 3 km easy. Competition centre.
The centre has a cross-country skiers' house, with ski waxing rooms, changing rooms, showers and first aid. here is the possibility to carry out remote cardio-respiratory monitoring on cross-country skiers in the field. Nearby there is ski (and snowshoe) hire and a downhill skiing area (2 pistes) with medium to easy pistes. The centre also offers a logistic base for ski-orienteering (lessons and demonstrations can be arranged).
Info: Cross Country Ski Centre Passo Coe Tel. + 39 0464.720077 - info@folgariaski.com
Forte Cherle - Folgaria Cross-country centre – altitude 1410 m
10 km from Folgaria in the direction of Fiorentini. 15,5 km of pistes: three circular routes of 1.5, 5 and 9 kilometres, ideal for beginners among the meadows and fir trees of the wide Forte Cherle plateau, close to the imposing Austro-Hungarian fortress.
info: Forte Cherle Hotel, Tel. +39 392 7558901 - info@albergofortecherle.it
Millegrobbe - Lavarone/Luserna Cross-country centre – altitude 1400 m
12 km from Lavarone Chiesa, 2 km from Luserna. 37 km of pistes + connection with Campolongo ( 50 km ). 18 km . competition piste, 12 km medium difficulty piste, 5 km easy piste, 2 km learners' circuit.
The centre is well-known for the Millegrobbe race – an international cross-country competition that every year attracts hundreds of participants from all over Europe . Service centre in the Malga Millegrobbe restaurant and bar, Tel. 348.7476813
Ski hire, instructors, showers, ski waxing.
Info & prices:
Centro Fondo Millegrobbe
Service centre in the Malga Millegrobbe restaurant and bar
Tel. +39 348.7476813 - Ski hire, instructors, showers, ski waxing
---
Hinnat
All-day 12 €
Children under 10 years old: free entry
---
Ajankohtaiset latutiedot
Verkkosivusto

E-Mail

Puhelin

+39 0464 724100
10
perinteiset ladut
81.5 km
Yhteydenotto
Matkatoimisto
Azienda per il turismo Folgaria, Lavarone, Luserna
Osoite

Via Roma 67, I-38064 Folgaria (Tn)

Puhelin

+39 0464 724100

Fax

+39 0464 720250

E-Mail

Homepage