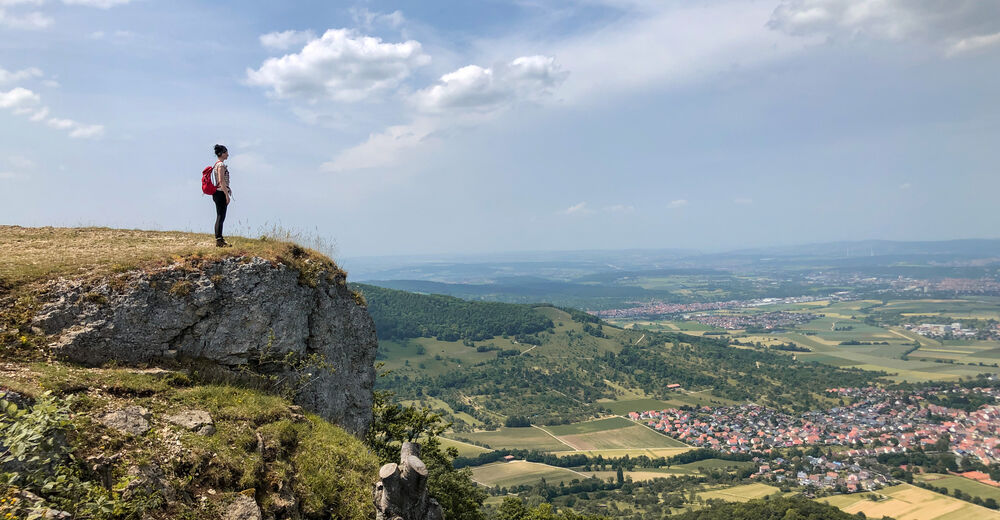 Welcome to the Swabian Alb in the South of Germany
The Swabian Alb with its bizarre formations and gentle curves emerged from the Jurassic ocean millions of years ago; this low mountain range extends for a length of roughly 200 kilometres and a width of 50 kilometres right across Baden-Württemberg in the south-west of Germany.
The appearance of the Swabian Alb`s landscape with its juniper heaths, woods, wide plateau, its hilltops and winding valleys bears the distinctive stamp of its geological formation. The rivers have dug deep beds into the white limestone. The oozing of water through the porous rock stratum has produced hundreds of fantastic stalactite caves; more than 25 of them are open to visitors and their subterranean wonders fascinate hosts of tourists every year. There are few places in Europe that can boast of having as many caves as the Swabian Alb. Those who explore the UNESCO Global Geopark Swabian Alb will discover a multitude of geological facts and phenomena demonstrating its evolution.
Ranges of hills rising up to 1000 meters, gentle mountain ridges and rounded hilltops characterize the landscape of the Swabian Alb. Hikers and nature enthusiasts will love the juniper-covered heats, the meadows full of flowers and the beech woods, the limestone rocks, volcanic lakes, stalactite caves and waterfalls, the thermal springs and the quaint old towns. One often finds that fortresses, castles and ruins surmount the rocks and hill-tops of the Swabian Alb. Names like "Hohenstaufen" and "Hohenzollern" remind us that great dynasties, which influenced German and European history for centuries, came from this part of the world. When roaming through the romantic valleys of the Swabian Alb, the traveller often comes upon attractive, historical towns, founded in Roman times or during the Middle Ages and nestling below a fortress or castle.
Tourists are enthusiastic about these mountain ranges between the rivers Neckar and Danube; during hiking or cycling tours they will have a view of the distant Alps, the Black Forest and the Alb`s lovely land, leaving them with wonderful memories of unforgettable holidays spent in the midst of a stimulating landscape.
Source:Tourist Board Schwäbische Alb
---
Vinkkejä vapaa-aikaan Schwäbische Alb
Näytä kaikki vapaa-ajan vinkit
---
Yhteydenotto Schwäbische Alb
Schwäbische Alb Tourismus
Bismarckstr. 21, D-72574 Bad Urach
Puhelin

Kotisivu
E-Mail