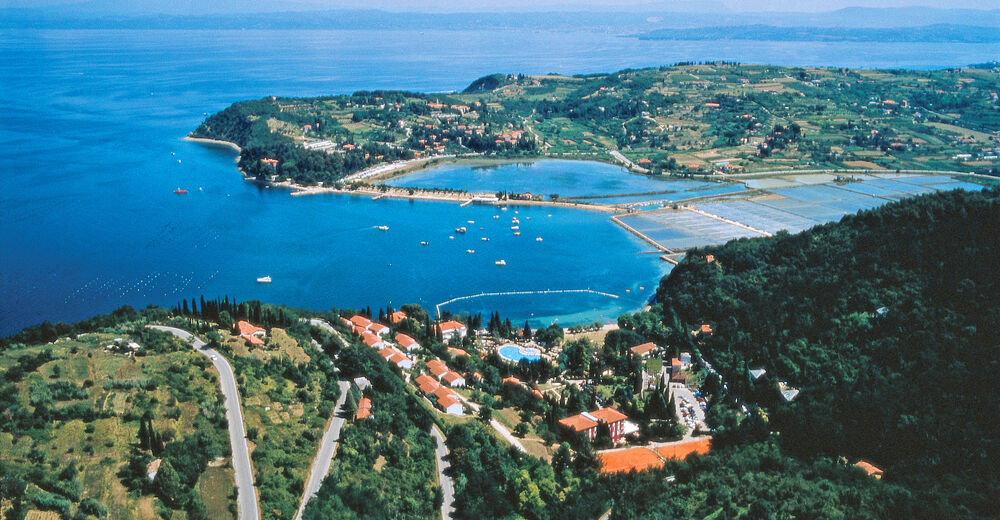 In 1990 the area of the green Bay of Strunjan between Izola and Piran was protected as a natural reserve because of its geological and geomorphological characteristics, great biotic diversity, and the fact that it encompasses the longest unbroken natural section of coast on the entire Bay of Trieste. It occupies 160 hectares of land area.
Its most remarkable part is the 80-meter overhanging wall of the cliff composed of soft flysch layers that the sea, wind, and rain constantly shape and change.
Beside the*four kilometres of coast*, which is unique on the whole of the Adriatic Sea, the typical flora and fauna of this region is worth mentioning. The estuary part of the river Roja was turned into salt pans already in the middle ages. Today, alas, only a tiny fraction of these, is still active. In the direct vicinity to the salt pans, a kind of a lagoon Stjuža, is encountered, once purportedly very rich with fish.
When the steep, granite cobbled path, leading to the north, is overcome, the St. Mary Ascension Church is reached. The legend is saying that on the night between 14th and 15th August in the far year 1512, the Mother Mary appeared to two vineyard watchmen. She begged them to relay a message to authorities regarding the renovation of the church, which was in very bad shape. In the following years the church was enlarged. In the year 1520 it was adorned with the painting Apparition of St. Mary by Francesco Valerio. Eventually the church became the most important pilgrimage centre of the entire Istria.
Source: www.slovenia.info/en/-ctg-kraji/Strunjan-.htm?_ctg_kraji=2666&lng=2&redirected=1
---
Vinkkejä vapaa-aikaan Strunjan
Näytä kaikki vapaa-ajan vinkit
---
Yhteydenotto Strunjan
TIC Portorož
Obala 16, SI-6320 Portorož
Puhelin

Fax

Kotisivu
E-Mail
Paikat Adria Küste / Karst Region
Webbikamerat